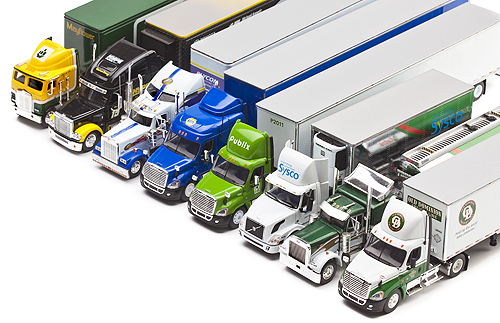 APPLY YOUR DESIGN AND LOGOS TO AN EXTENSIVE LINE OF DIECAST MODELS!
Our collection of licensed die-cast models offers many choices to select from. We're here to help guide you through the selection process and to make sure you choose the right scale, model and price to create the perfect replica for your project.
After developing a design plan, our graphic designers can adjust artwork and logos precisely to the scale of the replica chosen. In most cases, we pad-print artwork directly onto the model - ensuring vivid colors and a long lasting, quality finish. There's almost no limit to what we can do graphically!
Our model trailer truck custom imprint programs start at a low 150 pieces. Pricing discounts occur in increments of 252, 504, 750, 1250, 2500 and 5,000 or more.
Unfortunately we cannot produce single pieces or quantities less than the stated minimums above.